Your workplace
& life style
A place to live. A place to work.
A place to live. A place to work.
Your offices in the heart of Karlín, Prague, right by the Vltava River.
Buildings River Garden Office II./III. - the combination of life and work on the Rohanské nábreží.
Prestigious address, excellent accessibility
Ecological and economic buildings
A lively
neighborhood
A popular modern mixed use area
2 minutes from metro station B Křižíkova and tram stops  
Next to Prague city centre – 5 minutes by car, 10 minutes by public transport, 20-minute walk
Highly flexible office layout
Services and shops at the ground floor
Nearby restaurants, cultural activities, a park zone along the Vltava River or the Vítkov Hill
Buildings certification    excellent
Prestižní adresa pražského Karlína. Přidejte se do čtvrti úspěšných.
Buildings River Garden Office II./III.
A neighbourhood for success – an attractive and desirable place.
The property consist of two separate buildings, along the Rohanské nábřeží boulevard.
8 above ground floors and
2 underground floors
EV charges
inside and outside
Lively district
The unique atmosphere of Prague's Karlín combines history, cultural activities with greenery and modern architecture and unforgettable stylish restaurants and cafes. Fans of sports activities enjoy the popular cycle path and many other activities. Enjoy a rest in the quiet zone along the Vltava river, on Karlínské náměstí or on nearby Vítkov Hill.
Location Prague 8 - Karlín
Rohanské nábřeží, where both buildings lied in Prague's Karlín, which is one of the most dynamic areas of Prague with excellent accessibility by car and public transport. Here you will find all civic amenities, services and shops.
FOOD
stylish restaurants, cafes, bistros
and traditional bakeries
SPORT
cycling, yoga, golf, fitness
... and invigorating walks
RELAX
history, culture, music, massages
and rest in the parks
SHOPPING
supermarkets
and shops
Indian by Nature
The Indian restaurant Indian by Nature offers an unforgettable all-you-can-eat Indian buffet.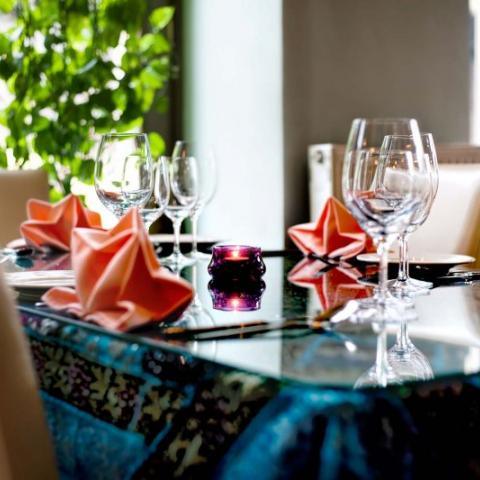 Lokál Hamburk
A great place to go for a great Czech lunch and great beer. You can have it with Czech classic meal or you can just guzzle it down. But you can go to the "big one" only after work. It's cold and addictive.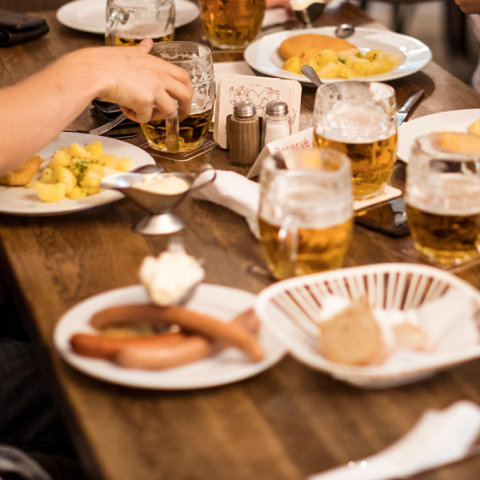 Garage
At Garage you can get the best poutine in Prague. It's the unhealthiest thing you can imagine Meat, fries, onions, bacon, cheese and brown gravy, but the taste!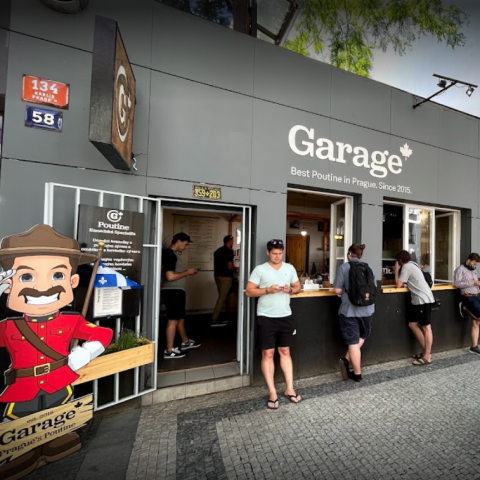 Dhaba Beas
A vegetarian restaurant where you can choose from the best of Indian, Vietnamese, Thai and international vegetarian and vegan cuisine. You take what you want and pay by the weight of the food.
RiGa bod na mapce - u budovy RiGa
RiGa bod na mapce - u budovy RiGa
Administrativní komplex s nadstandardním zázemím. V showroomech GymBeam Fitness Hub, RE/MAX G8 Reality, NATUZZI ITALIA, PKS okna, Studio Decoland, Fuku wok & sushi.
Wine Rebels Karlín
Experience a bit of Austrian atmosphere in Prague. Discover the relaxed yet luxurious environment of the family-run Wine Rebels wine shop in Karlín (River Diamond building)
Uno Duo Tre
A restaurant with an Italian heart, Italian hospitality, which consistently pays attention to original and original recipes.
Můj šálek kávy
Popular caffe in the heart of Karlín offers many types of coffee, homemade fruit soda, craft desserts, divine breakfasts and light snacks throughout all the day.
Proti proudu bistro
All day, you can have breakfast, coffee, one of our desserts, you can go for lunch and dinner or sit down to drink wine. All this a bit away from the hustle and bustle and in a nice environment.
EMA espresso bar
Excellent takeaway coffee and a selection of small desserts for walks in Karlín. This is the EMA espresso bar.
Yes Cafe
Excellent coffee, great food and creative atmosphere.
Brunch / Guests / Coffee vibes / Ye's vibe / Wine
Riders Coffee
Italian Bianco coffee and a selection of Father's on esk. Light roasted selections of Father's Coffee.
iNels Cafe
Showroom iNELS Café. The unique space presented modern trends in electrical installation and home control, the so-called Smart Home.
Eska
Eska is a restaurant with a bakery. You can go here for breakfast, lunch and dinner, or for their baked bread with a lump of homemade butter, or a great takeaway coffee.
Karlín market
Varied farmers markets featuring vegetables, food trucks, wine, craft beers and other interesting products are held regularly. Seasonal events are also held at the markets.
Karlín Music Theater
Karlín Music Theater presents musicals and operettas. All productions are accompanied live by an orchestra, usually a choir and ballet also perform.
Karlín barracks
Bar, club, cafe, cinema, concerts, DJ's, theater and more... Karlín barracks is the cultural center with a great atmosphere and lots of entertainment options.
Forum Karlín
Concert hall, gallery, unique multifunctional cultural space in a historic industrial building.
Křižíkova
Metro line B - 1 min. walk from River Garden II/III
- 3 min. on Palmovka
- 15 min. to Černý most
- 9 min. to Hlavní nádraží
Urxova
Tram
8, 3, 24, 6, 25, 92, 94, 14
- 5 min. to Palmovka
- 5 min. to Florenc
Karlínské náměstí
Tram
8, 3, 24, 6, 25, 92, 94, 14
 - 9 min. to Palmovka
- 2 min. to Florenc
Křižíkova
Tram - 1 min. walk from River Garden II/III
8, 3, 24, 6, 25, 92, 94, 14

- 6 min. to Palmovka
- 3 min. to Florenc
Form Factory Fitness Club
Form Factory Fitness Club
Fitness for your body and mind. It offers individual and group training sessions with a trainer. Sauna and hot tub and steam bath services are included in the price of their programs.
Building's Amenities
Restaurants, services and shops River Garden Office II./III.
 - GeamBeam
 - FUKU Wok & Sushi
 - Salon Delice
 - NATUZZI Italia
 - PKS okna
 - G8 Remax
 - DECOLAND
We are here for you and your questions
Contact us
River Garden Office II./III.
Rohanské nábřeží 678/23-29
Praha 8
| | |
| --- | --- |
| | +420 601 134 924 |
| | d.binderova@mvgm.com |
MVGM Property Management Czech

| | |
| --- | --- |
| | d.binderova@mvgm.com |

Leased by JLL

| | |
| --- | --- |
| | +420 724 123 406 |
| | Klara.Bannatyne@eu.jll.com |
Asset Management: LaSalle